Fellowship, Encouragement, Support, Worship, Love and Joy
....all this and more is what you will find within the Women's Ministry.
The women of First Baptist Godley don't just contribute to their families at home and to the Church but to each other as well. Whether you're new to the church, Christianity or just new in town these loving women will help you in any way they can. You don't have to be a Christian to be a part of this wonderful and encouraging group.
2nd Annual Women's Conference
Sorry!!The deadline for luncheon RSVP has passed (August 1st).
Please call the church (817)309-3365 for more information or you can click "email" to submit an email with any questions you may have.
Schedule
All times listed are based on Central Standard Time.
Morning
8:30 a.m. Event Begins with Worship
8:45 a.m. Session One
9:40 a.m. Session Two
10:40 a.m. 10 Minute Break
10:50 a.m. Session Three
11:40 a.m. Special Feature
Afternoon
12:15 p.m. 35 Minute Lunch Break
12:50 p.m. Session Four
1:50 p.m. Session Five
2:30 p.m. 20 Minute Break
2:50 p.m. Session Six
4:15 p.m. Event Concludes
Ladies Luncheon
The Ladies Luncheon began over 5 years ago to offer women of the church an opportunity to come together for a simple pot-luck lunch and a lot of great fellowship. We meet the 3rd Thursday of the month, taking off the month of November. Guest speakers join us to share their knowledge with us in their area of expertise. Some of our speakers this year included: A Chiropractor, insurance broker, hospice company liaison, non-profit county counseling and family crisis center. As a group we fill shoe boxes for children to help support Samaritan's Purse Christmas Boxes. The year ends with our Christmas Party. We look forward to seeing you at our next Ladies Luncheon. Come make new friends.
Women's Retreat
First the concept, then the planning by a small group of 6 women and finally the reality of the now annual, Ladies Retreat which debuted September 28, 2019. This one day retreat offered our keynote speaker, Beth Moore, via her DVD, "Loving Well". A continental breakfast was served, skits entertained, beautiful music, door prizes, tote bags filled with goodies and a great lunch. Come join us next September for a day of retreat with sweet fellowship, joyful worship and enriched teaching about God and our walk with Him.
Good Samaratian's Purse Christmas Child Boxes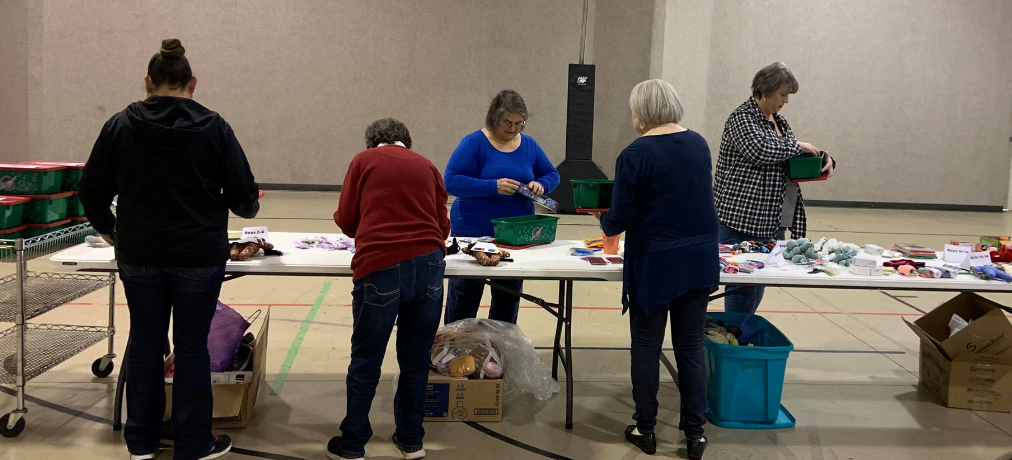 "The Women Upstairs" (Ladies III SS) gathered to fill boxes this year for children around the world. It was wonderful day! Please join us next year.
Ladies III Christmas Party Pictures
Here are some pictures from the Ladies III Sunday School Christmas Party
Ladies III 5k Pictures
'The Women Upstairs' enjoy participating in local 5k runs.
Ladies Luncheon
Here are some images from some of the luncheon meetings